A look into the loves and life of Livia (McWHYSOSRS)
Scones Recipe!
---
I think we've all learned that I
cannot
be a consistent blogger. However, I hope you all enjoy my scattered blog posts.
Today I will be sharing a recipe that me and my mom have been using from a food blog called
Confessions of a Tart
.
The recipe is originally for Strawberry Scones. Me and my mom find this recipe is a great recipe for any type of sweet scone base: We have made many variations. Our favorite is Chocolate chip.
These scones are great as dessert but are mildly sweet, so they are great to have with your morning coffee as well.
I hope you all enjoy this recipe! You may print the recipe card provided if you like, too. Post a comment if you make it!
Notes before you start
The secret to perfect, fluffy scones (and biscuits, for that matter) are to use
COLD
butter. It is much better to use cold butter as opposed to melted or softened, it gives you the optimal texture.
You do not have to use chocolate chips, you may use anything you want! If you are using fruit (berries in particular), omit 1 tablespoon of sugar from the dough and toss your berries in it. If you are using fruit, use about 1 cup.
Possible substitutions for the recipe:
If you cannot buy buttermilk, you can use:
Half and Half
Cream
Mixture of Milk and Lemon Juice or Vinegar (1 tbsp)
If you choose the DIY buttermilk, be sure to let it sit for 5-10 minutes so the milk can sour. Be sure to stir in the lemon juice or vinegar so it's all incorporated.
To add more flavour to the scones, feel free to add spices like nutmeg, ginger, cinnamon,etc. We add some cinnamon to the dry ingredients and add 1 teaspoon of vanilla when we add the the buttermilk (forgot to mention that in the recipe card, sorry!)
The Actual Recipe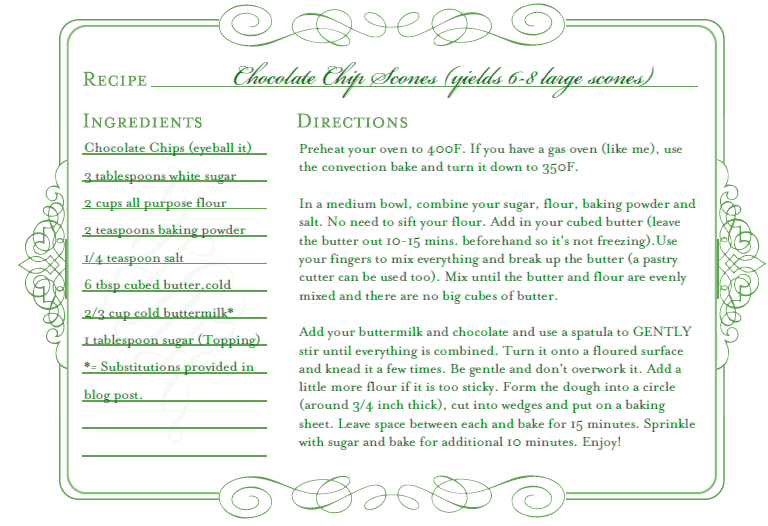 Hope you enjoyed the recipe! As always, feel free to leave comments! I can't wait to see your results and variations on the recipe!
Comments
Posted 03-25-2012 at 01:05 PM by

skeleton