Peace
Love
and Hippies
Banner from
here
.
30 Day Challenge: Day 1!
---
To kick off starting up my blog again, I made a ton of changes! Actually, everything is different! Hopefully all these changes will inspire me to keep up with my blog this time!
Also, I have decided to start up with a 30 day challenge that I found
here
! Here are the different things I will do:
Day 1: Introduce, recent picture of yourself, 15 interesting facts
Day 2: Meaning behind your blog name
Day 3: Your first love
Day 4: Your parents
Day 5: A song to match your mood
Day 6: A picture of something that makes you happy
Day 7: Favorite movies
Day 8: A place you've traveled to
Day 9: A favorite picture of your best friend
Day 10: Something you're afraid of
Day 11: Favorite tv shows
Day 12: Something you don't leave the house without
Day 13: Goals
Day 14: A picture of you last year - how have you changed?
Day 15: Bible verse
Day 16: Dream house
Day 17: Something you're looking forward to
Day 18: Favorite Place to Eat
Day 19: Something you miss
Day 20: Nicknames
Day 21: Favorite Picture of yourself ALL TIME Why?
Day 22: What's in your purse?
Day 23: Favorite Movie
Day 24: Something you've learned
Day 25: Put your iPod on shuffle, first 10 songs
Day 26: Your Dream Wedding
Day 27: Original Photo of the city you live in
Day 28: Something that stresses you out
Day 29: 3 Wishes
Day 30: a picture of yourself this day and 5 good things that happened since you started the challenge
So I guess I'll start it up with day 1!
My name is Skye, and I am 18 years old. I am currently a university student in Virginia working to get my degree in English. After graduation, I hope to go on to graduate school to get my masters degree in education. I'm a Pulse editor here on DC and I absolutely love it!
Here's a pretty recent picture of me making cupcakes. As you can see, I'm very excited about it. Lol. Someone was handing out temporary tattoos while I was walking to class that day. I decided it would be a good idea to put it on my face.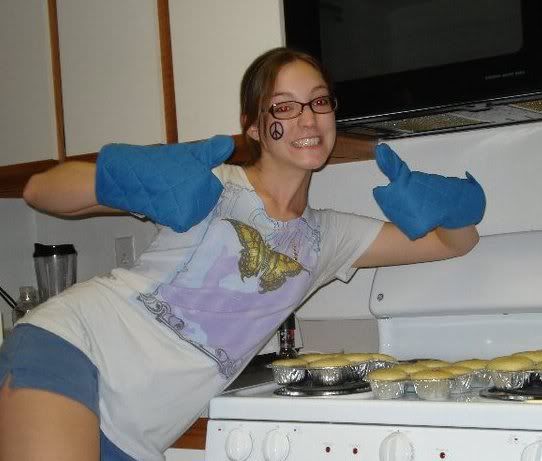 So! 15 Interesting facts about myself:
1. I didn't eat a single one of those cupcakes in the picture. I just felt like baking.
2. My toenails must be painted at all time or I feel naked.
3. If it's covered in chocolate, I will eat it.
4. I'm a grammar nazi.
5. I love Harry Potter.
6. I don't drink soda.
7. My boyfriend's name is Jared; we've been together about 3 years.
8. I take ballet classes.
9. I once tried to count how many licks it takes to get to the center of a tootsie pop.
10. I failed and bit it open after 200.
11. I drink about 5-7 cups of tea and coffee a day.
12. When I was little, I fell down the stairs almost once a week. I still do that a lot.
13. I love to sit on a rooftop and watch a sunset.
14. I hate math.
15. I live my life by the "Try anything once and keep an open mind" principle. Within reason, of course.
So that's me! I'll do my best to keep up the 30 days and try to keep anyone reading entertained!
Comments
Posted 04-12-2011 at 11:34 PM by

xKPandCo