`BC` ~`Cupid`~
---
~We are probably all familiar with this little guy below, right?
~But how much do we know about him? In Roman mythology, Cupid...or Latin Cupido, meaning "desire", is the god of erotic love, beauty, desire, attraction & affection.....He is also known in Latin as 'Amor'("Love"). This god of love is now of course the ultimate icon of Valentines day and his name has become synonymous with love. He is often depicted as a cherubic figure with small wings, rosy cheeks & curly, golden blonde hair....Dressed with a single & simple sash(with one(1) leg strategically positioned to hide his sex maybe...He is always spotted with quiver & arrows & often a torch. In most literature Venus, the goddess of love & beauty who we will discuss later, is most certainly accepted & recognized to be his mother, yet his father is not referenced. In the later classical tradition, Cupid is most often regarded as the son of Venus and Mars, whose love affair represented an allegory of love & war. While Cupid's Greek counterpart is 'Eros', we will focus solely on Cupid for the purpose of this entry.
~To go back to Cupid's physical appearance for a moment, we'll examine why he appears as such. While in ancient times Cupid was often described as a young handsome man; it is now, and it became more common of course, that he is depicted as an innocent, a (baby, cherub-cheeked)cherub or young boy-- The reason for this is to symbolize that "
Love is foolish & irrational as are many young people
". His wings represent the flightiness of lovers & their tendency to change their minds-- They are also said to indicate that "
Love happens suddenly
". He is sometimes blindfolded so as to symbolize the figure of speech--"
Love is Blind
". The arrows he carries(more on his arrows below*)symbolize that "
Love can emotionally wound
" & the torch he is so often seen with symbolizes that "
Love inflames the heart
". Cupid himself is symbolic of both innocence & danger...two things not generally related or alike, and of both good & bad. Here we have a child, toddler-like in appearance, who carries around weapons(arrow), and these weapons have the ability to do good by aiding people to fall in love or bad by making people have unwanted and/or uncontrollable lustful feelings against their very own free will! ..Intriguing indeed
!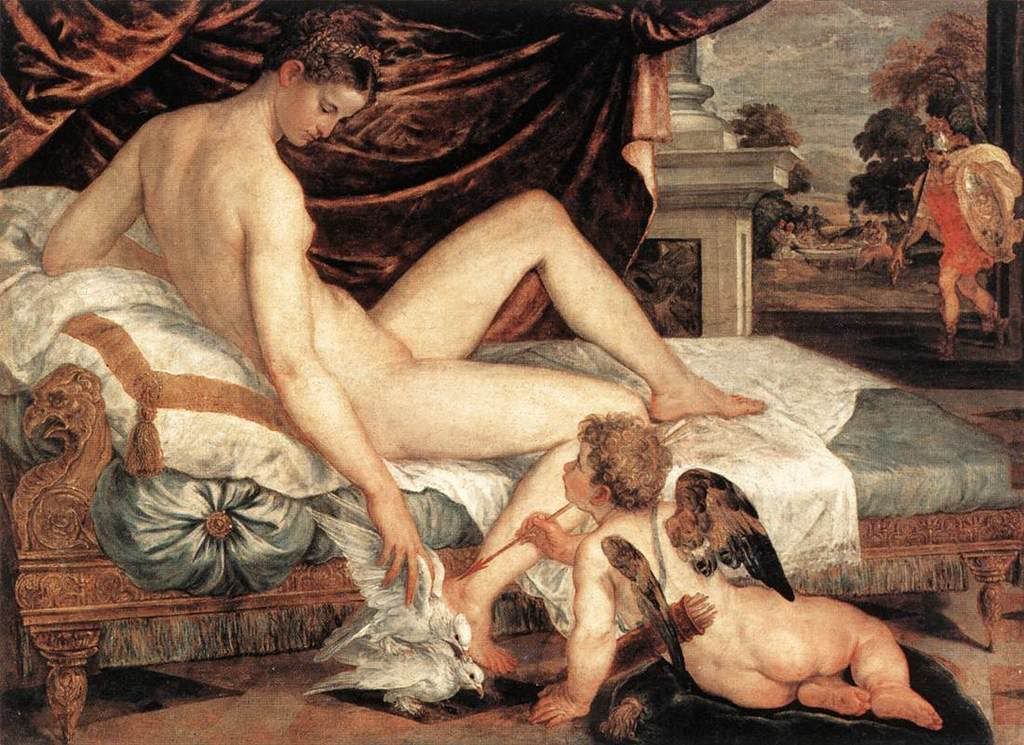 ~According to ancient mythology and legend his mother, Venus, complained to Themis, one of the Titans, that her son grew no bigger than a child. She that it was because he was a solitary child and that if he had a brother he would soon start to grow. A brother to Cupid, called Anteros, was born and Cupid was then seen to increase rapidly in size and strength.
~Cupid carries two kinds of arrows, one with a sharp golden point, and the other with a blunt tip of lead. A person wounded by the golden arrow is filled with uncontrollable desire, but the one struck by the lead feels aversion and desires only to flee. It is also siad that the golden one signified true love while the leaden one signified wanton & sensual passion. The golden arrow had dove feathers(which is probably why Cupid is associated with so often with doves)as flights which aroused love & the leaden arrows had owl feathers that caused indifference.
~One day Cupid was caught stealing a jar of the sweet honey he & his mother loved so much and was stung by the angry bees. This caused Cupid a great deal of pain, stinging & aggravation...As well as unbelief which is clearly shown in his complaint when he runs back home to his mother(who the honey jar was a gift for)...."
So small a creature shouldn't cause such painful wounds
!" As a "thank you" for the gift, Venus gives him a gift sweeter than any honey...Wise words-- "
He too is small, and yet delivers the sting of love
", or in other words..."
There is no sweetness without pain....Sweetness without pain does not exist and therefore cannot be found
". This tale is said to be symbiotic involving the flower of youth, the sting of love as a 'deflowering' & the honey as a secretion of love.
~Cupid's personality seems to line up well with his physical appearance and to me, you get what you'd expect.....An inquisitive, energetic, imaginative,
naive
, capricious, spirited youth who has a very much "
boys will boys
" mentality that produces all that one can expect with that and can certainly be a bit mischievous at times....Such as when he used his arrows to make an unlikely love-match and in turn delighted as he watched the fall-out. Cupid was always at odds with Apollo. The Roman poet Ovid portrays Cupid as a willful, capricious child in many of his poems from the Amores & the Art of Love-- From there we get his description of Cupid below:
"Cupid's there, quiver reversed, bow broken,
Holding a burnt-out torch.
See how sadly he walks, poor child, wings drooping,
How he beats at his bared breast,
How the tears rain down on his hair, now lying all tangled
About his throat, and his mouth's a loud O of grief.
Thus he looked, they say, long ago, when he saw his
Brother Aeneas to the grave…"
~One of the most interesting, or most heard of parts, of Cupid's legacy is probably the tale of him & Psyche. As it turns out, Cupid god of love, was not so as immune to love himself as some may have thought. ..Throw in a fair mortal & a pinch(..okay heaps & heaps
)of jealousy from mother dearest-- Who after all
is
the goddess of beauty & love and you get quite the tale. And I will tell that tale next time. ..See you then...Very soon
!
Comments
Posted 02-27-2013 at 06:04 PM by

nixiefae