MD4-The 16 'Types' And Celebrities
---
~Now that we're familiar with the 16 personality types, let's take a look at how some celebrities measure up to theirs! I'll start off by blogging about former kid stars, and now just 'famous celebs', but forever twins,
Mary-Kate and Ashley Olsen
. To get off subject for just a wee moment, have you ever thought it was odd that one twin's name is Mary-Kate and the other's Ashley....like those 2 names couldn't be any further apart for a set of twins; they're not similar at all and just do not seem like they belong together? ....Maybe it's just me(Probably).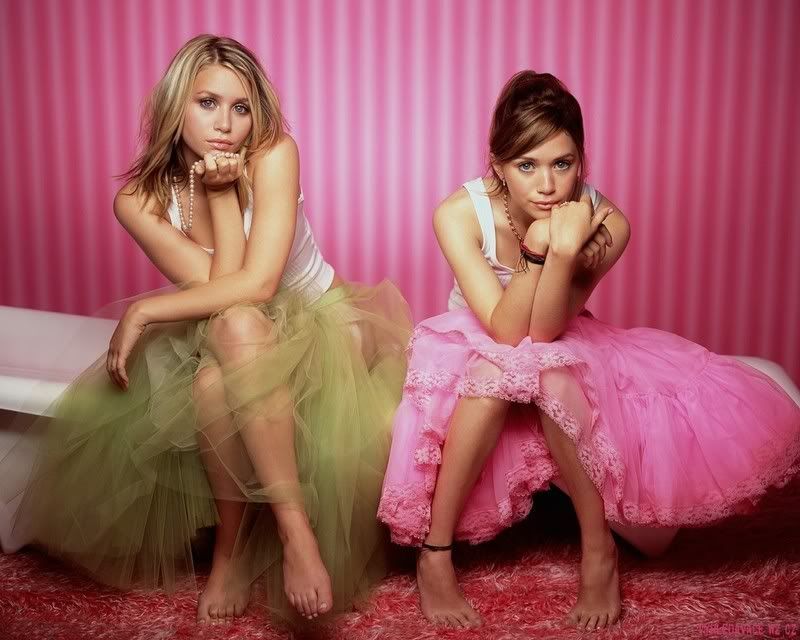 ~Now, back on topic. Mary-Kate and Ashley are both '
INTP
's'. INTP's are known as the "Engineers" or the "Critics" of the 16 and represent about 1 percent of the world's population making them one of the rarest types to be. Here is a rundown of the INTP's basic traits:
~serious in nature, a loner, very intellectual(believes that knowledge
is
everything...means
everything
and can solve
everything
), very analytical, very logical, very critical, isn't known to smile often, does not like to share feelings, wrestles with the meaninglessness of existence, likes esoteric and strange things, messy, disorganized
-takes his interests and beliefs very seriously(Honesty and directness when explaining these interests are usually displayed).
-INTPs detest facades and particulary dislike people who exhibit them. Equally, those kind of people also dislike INTPs and avoid them at all cost, for they know that the INTP will see right through them.
-The INTP's serious nature also makes them almost immune to mockery and being made fun of, at least when face to face with their mocker. If someone attempts to make a sarcastic, mocking comment about an interest of an INTP, the latter will defend himself with a pure, almost naive seriousness, explaining his position with a severe exactness, wielding his words like swords. This almost always disarms the mocker who does not expect such a penetrating defence,
-The INTP will collect and study odd things such as, fossils, rocks, and old photographs
-It is not uncommon for him to alphabetize and categorize his movie and book collections
-He is bothered if he finds such small important things out of order and prone to fly into a rage if they are touched by one other than himself.
-He is very guarded and worried that people are judging him because he himself is constantly quietly observing humans. The INTp is very skeptical about love, and though he wants more than anything to love, when he does he thinks himself foolish and quickly backs out of the relationship. As a rule he keeps a distance between himself and his friends. One of his biggest fears is to rely on someone emotionally.
-Careers for the INTP:
Psychoanalyst
Research/Development Specialist
Logician
Historian
Creative Writer
Researcher
Entertainer/Dancer
Photographer
Musician
Systems Analyst
Forensic Researcher
Fine Artist
Agent
Computer Programmer
Pharmacist
Economist
Investigator
Health Practitioner
Archaeologist
Electronic Technician
Home Economist
Mathematician
Philosopher
Strategic Planner
~I can see a little of Mary-Kate and Ashley both in these desciptions. How about you?
Are any of you INTP's? Well, thanks for reading!
Comments