July Favorites!
---
July Favorites!
So I'm going to be starting my monthly favorites! I want to put a spin on everything and I think it'd be nice to start with monthly favorites! (: If you guys like seeing what my monthly favorites are and want me to continue, please comment! If you think they're lame and don't care much for them, don't be afraid to tell me that too! hahaha These favorites are mainly going to be things I'm raving about. If you're not too big a fan, sorry! Maybe we'll like at least one thing in common! And I've decided to do my favorites on the last day of each month, so these are my day-late July favorites! hahaha
Favorite Quote
Quote:
"Carpe omnes. It's not just seize the day – which is grossly overused. It's seize everything. I like that. I'll take it all."
-Amber Heard
yes, I realize this quote is in my sig. bahaha
Favorite Song
So for my favorite song of this month, I think it'd have to be an oldie
ish
but definitely a goodie! My favorite song of this month is
Litost by Ambassadors
. This song is off of their album and it's the album title track.
I was obsessed with them forever ago and it kind of peeves me off that they're so amazing yet not well-known at all. I looove his voice. I think it's gorgeously raspy and all unnfff. hahaha I became reobsessed with them after listening to this song and a couple others on repeat. The album is made up of amazing songs. I swear, all of them are great. There isn't one that I don't like. So yeah, Litost takes the title for this month's favorite song, Ambassadors take the title for favorite band, and Litost also takes the title for favorite album. hahahaha
Favorite Show
If I could get away with giving Supernatural this title every month, you guys know I would. Buuuttt... you guys might also get tired of that! hahaha So I'm going to post my other favorite shows! This month,
Heroes
takes the title.
I've been watching Heroes
nonstop.
I am totally hooked on this show ever since my friend told me it was a good show. I decided to give it a try since I trust her taste in shows. hahaha It's such an addicting show! Just when I think there can't possibly be more conspiracy theories and twists and turns... BAM I AM HIT IN THE FACE WITH SOMETHING I NEVER EVEN THOUGHT OF. It really is a great show and the plot is fascinatingly creative. I recommend it to anyone who's into fictiony, actiony shows!
Favorite Graphic
So this month's favorite graphic was made by yours truly that I made for a competition! hahaha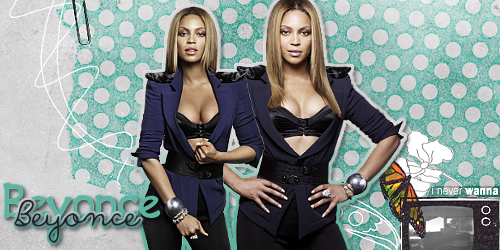 To be honest, I was kind of surprised at myself after I saw the final product. I love the way it turned out. I haven't really made a sig in a while. So yeah... I like the fact that it's simple. I think if I had overdone the texture and stuff, it would've taken away from her outfit and such. hahaha So what do you guys think of it? Comments and criticism?
Favorite Site
My favorite site at the moment is
Looklet
. Looklet and I sort of have a distance relationship thing going on. lololo I stay off of Looklet for what feels like yeaaars, but when I go back, I have sudden bursts of genius and create these outfits that I really like. Looklet used to have a community where you could save your looks into albums on your profile, but they got rid of the community. So instead, I've been posting all my designs in this gallery:
infinity&beyond
(most recent designs are towards the bottom). If you want to take a look, go right ahead! ;D My designs really depend on what kind of mood I'm in. Sometimes I'll go for a simple look, other times I'll obsess with layering on as many things as I can. Out of my most recent designs, I'd have to say this one is my favorite.
Favorite Gif
Ah, this will probably always be the most difficult category to decide on. I'm such a gif addict, I LIKE THEM ALL! After much deliberating, for this month, I've decided this is my favorite gif.
This gif is perfect. I loved She's The Man. And c'mon, this gif describes me perfectly. Like 100% me. lololo ;D When I'm providing an explanation as to why my favorite gif of the month is my favorite gif of the month, it'll be quite short. I just... you have to understand. Some I won't even be able to explain really. They just happen to be my faves, just because. It's a difficult relationship. I hope you can understand that. Please pardon my lack of explanation.
Okay, so I don't know a fantastic way to conclude this month's favorites. Just stay tuned for next month's! (:
Keep it real, spotted seal!
-
Steph
Comments